WELCOME TO
Kang's Taekwondo Academy
The Bay Area's Premier
Martial Arts Academy

Walnut Creek, CA Antioch, CA Brentwood, CA
Building Champions in life, Since 1994
Learn how to protect yourself & your loved ones.
And get in great shape at the same time.
Self-defense is the very least your child will get from these fun, fulfilling classes. Parents are always shocked to see how their kids' grades improve... how much more focused & attentive they become... and the confidence & self-esteem they develop very quickly.
In fact, kids love these classes so much that they're always dragging their parents to them - not the other way around! If you're looking for something that will give your kids powerful, important life-skills... help them get ahead in school... and get them in great shape fast... You've come to the right place.
Get Our Class Schedule, Prices and Web Specials

Your Name

*
Required field!
Your Email

*
Required field!
To a Antioch/Brentwood resident ready for the most awesome martial arts program around,
My name is Johnny Kang, head instructor of Kang's Taekwondo Academy. I wanted to take a second to tell you a bit about our school, and what you can expect when you walk through our doors for the first time.
Dedication.
Our expert martial arts staff is extremely, extremely, extremely dedicated to giving you the best possible experience you could ask for. They're there for every question you need answered... every boost of motivation when challenges arise... and to instill in you the wisdom that's been passed down through martial arts for thousands of years.

Our instructors care. They're here for you 110%.
It's more than kicks and punches.
On the surface, our Antioch/Brentwood martial arts program might seem like learning how to defend yourself and your loved ones. In truth, martial arts is so much more. Through the effort, dedication, and practice you put into every class...
... every area of your life will see improvement. You'll gain focus, determination and confidence that will seep into everything you do. Whether it's at work, at home, or anywhere else - you'll be changed for life. Martial arts is just as much about work on who we are inside as it is about the individual techniques and skills. With our program, you'll reap the full benefit of this ancient wisdom.
Fun.
And last but not least, we know how to have fun! After all, too much work is simply off-putting. When an activity is all serious focus and hard work, it's easy to burn out.
Every class is filled with smiles and laughter. You'll make friends, enjoy your time, and walk away happier than when you came.
Anyways, I hope to see you soon. Feel free to explore our site, and learn more about each of our Antioch/Brentwood martial arts programs. Then, call us when you're ready to get started.
But don't wait too long! Our classes are limited in size, and I'd hate to see you miss out.
To your success,
Johnny Kang
Antioch/Brentwood Martial Arts
(925) 706-9999
Check out what our members have to say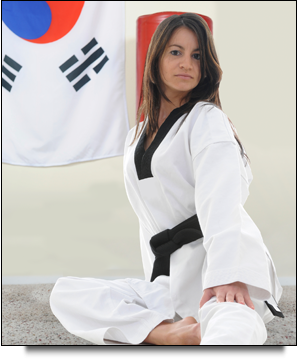 "For the first time in my life, I have a flat, toned stomach!"
This is crazy... Even when I let my stomach hang out – I still see the muscles! I didn't even have a stomach like this in my teen years – or in my 20s.

When we go to the beach... Or when I go for a jog and wear a sports bra... I feel GOOD. No more feeling self-conscious or worried about how I look. I just feel great, and energized.
I've honestly never felt better!
Stacie Gray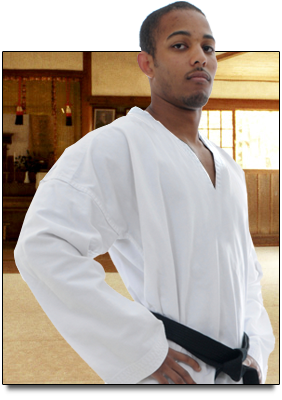 "I stood up to a 'tough guy' at the club – and he backed down!"
Just wanted to let you know the other day I was at the club, and accidentally bumped into this guy. He must've been a little "off" or something because he started yelling and screaming calling me names. I looked him in the eyes and politely said, "Hey, I'm sorry for bumping you man. I'd rather not fight, but if we have to, let's go outside." And I just looked him straight in the eyes.
Normally I would've backed down. But after just a couple months of Martial Arts – I feel like I can defend myself. I'll never back down again.
James Dolan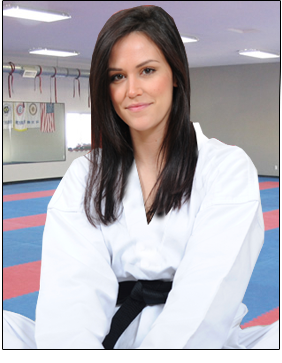 "I don't get heated up over the little stuff any more..."
One of the things we learn in class is not just how to control our bodies – but how to control our minds and emotions too.
I feel now that I have an inner-calm now. It's like nothing can shake me. I'm polite and courteous in situations where I used to sometimes be short with people. I smile genuinely at all of my customers. I'm more appreciative of my family and friends.
This is NOT just learning how to defend yourself. This is learning how to make your life even better. In every way.
Meagan Moore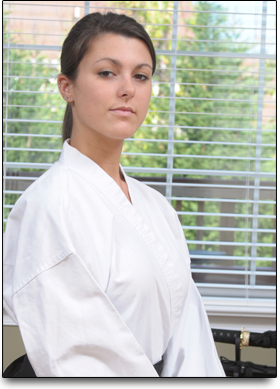 "I had no idea what I was capable of... It's so much more than I thought."
Okay, so for me Martial Arts was hard at first. My body was NOT used to moving that way! Plus the closest to sports I ever came was cheerleading for a month in high school.
But now my body is honestly able to do things I never thought possible. I feel so flexible. And limber. And so full of energy! It's like I wake up and I just want to move, move, move and go do things! I have more energy for my kids, for my job, for my husband, for my friends, and for myself.
This is NOT just learning how to defend yourself. This is learning how to make your life even better. In every way. Do yourself a favor and try it! Seriously! Call me when your life completely changes, for the better.
Stephanie Parker
"An AWESOME calorie-burning workout!"
I know a lot of people take Martial Arts for self-defense... But to be honest my main goal was to lose some weight. Believe me, you WILL lose weight with this! I can already see the pounds melting right off!
Every class is full of great fat-melting workouts. And as an added bonus, I now know how to defend myself. It's the best of both worlds. Whether you're looking to lose weight, or for self-defense, this is the real deal.
Just get started already!
You won't regret it!
Ryan Sanders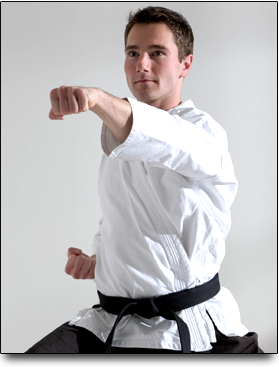 Get Our Class Schedule, Prices and Web Specials

Your Name

*
Required field!
Your Email

*
Required field!